Skin Consultation In Person at the Clinic or Virtual (20mins)£20
Skin Consultation in person at The Amber Clinic.We take time to look at your skin and discuss your concerns, your skin goals and plan your skin journey with us at The Amber Clinic.
Nimue Skin Technology is a premium leading derma-cosmeceutical brand which was designed primarily for pre and post-operative care for medical patients, as well as for use by advanced professional skin therapists to deliver advanced rejuvenation to the skin. 
The brand is known and loved for its use of cutting edge technology and hi-tec fusion of complex acids, naturally-derived antioxidants, phytoceuticals and peptides. It is focused on four primary results: rejuvenation, restoration, anti-oxidation and sun protection for optimal skin health.
Nimue Skin Technology uses unique, targeted, sophisticated delivery systems to deliver the optimum ingredients to the intended cells within the skin without the need for machinery and ensures safer more controlled delivery.
Results from first use is what Nimue clients can expect from the brand, the phased approach ensures that each skin condition receives maximum penetration with minimal irritation. This is a prescription only brand and best results come from combined use of professional treatments and home care products.
This range treats the cause and and not the symptoms. Thereby giving effective results.  We can target and treat fine lines and wrinkles, saggy skin, unevan skin tone, pigmentation, oiliness, dryness, acne, rosacea, redness and much more.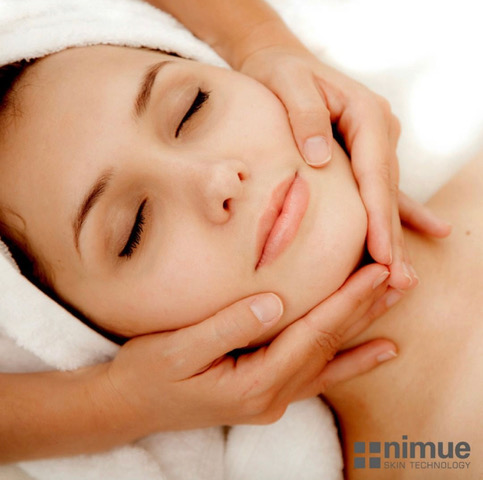 BOOK YOUR CONSULTATION TODAY BY CALLING 07984780372.
NIMUE YOUTH/TEEN DEEP CLEANSE
Nimue Youth/Teen Deep Cleanse (30mins)£39
This Nimue skin treatment is an introductory facial and effective especially for young skin, primarily focused on extractions of blackheads. Indicated for maintenance between peels for all skin types including a new client. 
Nimue Thermal Detox Peel (45 mins)
£45
This is re-energising 4 in 1 flash treatment peel. It deep cleanses, exfoliates & oxygenates the skin. Suitable for all skin types. A great pick me up as a quick lunchtime peel. It stimulates your senses with warming and bubble performing action giving instant results to remove impurities, refine pore size, softened lines and wrinkles, smooth texture of your skin, enhanced radiation and hydration. Great starter peel even if homecare not initiated.
NIMUE THERAPEUTIC TREATMENT
Nimue Therapeutic Treatment (50 mins)£50
A bespoke results orientated relaxing treatment customised to your specific skin's requirements, with all essentials including cleanse, exfoliate, extract, serum, mask and a massage.  Its for new users or as maintenance between courses of peels.  You can upgrade this facial with an electrical therapy from as little as £10 e.g. with electrical therapy like Oxygen therapy or LED light therapy.  Add an Eye Treatment for £15.  
NIMUE ACTIVE REJUVENATION TREATMENT
Nimue Active Rejuvenation Treatment (60 mins)£65
This treatment is personalised to treat your specific skin conditions using clinically tested transdermal solutions.
An active rejuvenating & renewal treatment using pH3, 15% triple AHA Bioactive Complex (glycolic, lactic and citric acids) & eucalyptus for anti-inflammatory and antibacterial properties. Suitable for skin prepared with Nimue Core range and that is not sensitive. It is utilising a blend of potent but gentle acids to deliver powerful results in the skin. The skin has improved clarity & collagen synthesis. Get an Instant Nimue glow that will have people talking about your skin. Course of treatments is recommended to cumulatively give reduced pore size, refined texture, increased elasticity, radiance & vitality. 
This treatment can be upgraded too using holistic tools like Gua Sha, Cupping or Electrical Therapies from as little as £10.  Add an eye treatment for £15. 
We recommend the use of Pre & Post Skin Strengthening Serum to intensify healing and repair barrier function for healthy skin with this treatment.  
Recommended in a course of 6-12 Treatments,
NIMUE PEELS – SEE AESTHETIC PROCEDURES
Using both clear crystals & organic grains, giving a gentle but effective exfoliation.  Removes dull unwanted cells leaving the skin revitalised, brighter & younger in appearance.  Suitable for all areas.  It can treat ageing skin, acne Scarring, acne/blemishing, fine lines/ wrinkles, altered pigmentation, Stretch Marks can be targeted (require multiple treatments).
Course of 6 -£275
Microdermabrasion add on to other treatments (10-20MINS)                          £15
Microdermabrasion Facial   (50mins)                                                            £55
A complete facial where the exfoliation aspect is using a blue diamond crystal machine.  Leaves your skin smooth, brighter and rejuvenated. Great before any occasion.
The next innovation for younger skin. A revolutionary skin treatment that uses the power of oxygen infused liquid minerals & blended with a choice of phytobotanicals to polish the skin, minimise pores, even out skin tone & reduces fine lines & wrinkles.
Course of 6      £250
Oxygen Therapy as add on to other treatments (10-20MINS)
£15
Oxygen Therapy (45 mins)

£50
MICRODERMABRASION AND OXYGEN THERAPY COMBINED
Excellent for Special Occasions & Brides!!!
Course of 6      £295
Microdermabrasion and Oxygen Therapy Combined (60 mins)£60
SCHRAMMEK GREEN PEELING REGENERATE
Price includes two facials (1st facial 1 hr and 2nd 30mins- 5 days apart) & 3 home care products that are mandatory to the treatment.
A new skin in just 5 days.  This natural medically developed 'Herbal Deep Peel' will rejuvenate & regenerate to treat with outstanding success the following:
Acne/ impure skin
Refine scars (from acne, accidents, burns)
Refine enlarged pores
Sun damaged skin
Skin discolouration: certain hyper pigmentation
Keloid scarring
Fine lines & Wrinkles (loss of elasticity)
Stretch marks & Revitalises the skin
The treatment can effectively remove the upper layers of the skin, and can be performed anywhere on the body.  Results depend on the individual- a course of treatments may be necessary depending on individual skin condition.
Minimum course of 2 treatments once a month recommended
Classic Herbal Green Peeling: Correct, Regenerate and Rejuvenate
£250
Classic Herbal Green Peeling Includes:
1 x Green Peel Regenerate (60mins)
1 x Aftercare kit
1 x 30mins Follow up facial (30mins) after 5 days
SCHRAMMEK GREEN PEELING FRESH UP
Gentle method to refresh the skin and its ability to absorb active ingredients for effective hydration.  Prevents premature aging, evens out pigmentation & revitalises the cells giving radiant complexion & refreshed skin for that special occasion. 
Minimum course of 6 treatments + aftercare ampoules once a week recommended
Fresh Up Herbal Green Peeling: Prevent & Refresh (45 mins)
£75
SCHRAMMEK GREEN PEELING ENERGY
Delivers a surge of visible energy instantly.  Intense activation of skin's blood circulation & metabolism for natural skin improvement.  Results is better complexion, diminished skin problems including age impurities, scars, and hyper pigmentation.  you will also notice a youthful plumpness and glow.  This includes aftercare kit. You can ask to purchase the amazing ampoules for an enhanced result. 
Minimum course of 4 treatments + aftercare + ampoules once a week recommended
Energy Herbal Green Peeling: Correct, Vitalise and Regenerate (60mins)                                     
£125
SCHRAMMEK GREEN PEEL HYPER PIGMENTATION
Mela Wave Gentle method for clearer skin complexion.  Includes hand and arm massage.  Or Mela white: Intensive method to specifically targets tough pigmented areas.  Includes 15mins intensive de-pigmenting massage technique.  Choice depends on type of pigmentation- discuss with therapist.  Both treatments even skin pigment & improves skin complexion.  Homecare Mela White serum & cream will inhibit melanin (pigment in skin) production is required to purchase or receive it free as part of a course booking.  Course of 4-6 is recommended. This single price does not include Mela white homecare regime, however it does include the immediate aftercare you would need. 
Mela White (60 mins) 
£135    
SCHRAMMEK GREEN PEEL BODY
Schrammeck Herbal Green Peeling: Renew & Correct, Body (60mins)                                     
£150
This includes 1x aftercare kit and 1 x treatment (60mins) for the selected body area e.g. stretch marks after baby, or pigmentation on chest or back etc.  We can treat to a maximum of 2 hand span width.  Course of 6 sessions are recommended. 
When Demalogica meets skin, skin health is redefined.  With our professional help not only will your skin feel healthy, rejuvenated and happy but you will leave our skin bar with a truly enhanced comprehension of your skin's requirements. 
DERMALOGICA FACE MAPPING SKIN ANALYSIS (10mins)
We take the guess work out of your skin regime by taking a closer look at your skin.  The face is analysed in 14 sections to diagnose concerns in each, prescribe simple home care and give treatment strategies for a positive impact on your skin.
Dermalogica Face Mapping Skin Analysis (10 mins)£20
DERMALOGICA PROSKIN 30 FACIAL
Looking for a high impact treatment? Our intensive 30-minute treatment is designed by our experts specifically for you and your most pressing skin concern. This bespoke service combines key steps of professional exfoliation and deep serum treatment with results-intensifying masks. Experience brighter and healthier skin. This is a perfect introductory or maintenance facial for those with a busy schedule. It is bespoke to your needs and can help with acne, sensitivity, uneven complexion, dehydration and dull and tired skin. Good option for teenage and early twenties. Youth Skin needs 30mins (£45), for Anti Ageing, mature or problematic adult skin 45 mins with LED or other therapy is £55.
Dermalogica Pro Skin 30 Facial (30-45mins) from £45
This is a Our ultimate 60-minute treatment is customised to target all of your skin needs and to leave your skin radiant and glowing. It incorporates targeted exfoliation to improve texture and tone, manual massage to boost circulation and collagen production and highly advanced professional-grade actives for deep problem solving treatment. Experience dramatic results in a secluded and relaxing environment.  
Dermalogica PROSKIN60 (60 mins) £60
Advance Targeted Treatment Upgrade Options
 You can Upgrade a PRO SKIN 60 
Evan if you have already booked a PRO SKIN 60 and want to Upgrade on the day we can do it!
-You can add an additional ELECTRICAL THERAPY like LED, radio frequency, high frequency, oxygen and ultrasound from as little as £10. 
-OR Choose to add an additional Holistic Therapy like Gua Sha Stones Massage, Ice Globes, Dry Cupping, Hot or Cold Stone Therapy from as little as £10. 
-OR Add an Eye Treatment for £15.   
-Or Add a Lip rejuvenation treatment for £20
-OR Alternatively Ramp Up Your Results by having one of Dermalogica's PRO Targeted Treatments listed below (each includes a Pro Power Peel with and after care kit)
PRO FIRM (Anti Ageing) £85 (60mins)
PRO BRIGHT (Brighten & Target Pigmentation) £85 (60mins)
PRO CALM (Target Sensitive Skin) £85 (60mins)
PRO CLEAR (Clear & Calm Congested Skin) £85 (60mins)
DERMALOGICA PRO POWER PEEL 30
Looking for a professional peel experience? Our all-new Pro Power Peel redefines the peel experience. Our strongest and fastest peel yet, the Pro Power Peel collection features a full suite of peel products, including Alpha Hydroxy Acids (AHAs) and Beta Hydroxy Acids (BHAs). In this express 30-minute treatment, your skin therapist will create a customised peel to instantly rejuvenate and refresh your skin. With a unique system of three different acids for a deep exfoliation personalised to you, it is ideal to target lines and wrinkles, uneven pigmentation or breakouts.  Aftercare kit included. You can request extra's to be added to the facial for a small fee e.g. high frequency or ultra sound for £10 extra. 
Pro Power Peel 30 (45mins)£70
DERMALOGICA PRO POWER PEEL 60
Want to experience a truly transformative treatment? This effective and customised 60-minute treatment combines the benefits of our Pro Power Peel 30 treatment (description below) with additional advanced techniques and technologies. Peel results are dramatically enhanced by a supplementary deep treatment process incorporating powerful IonActive Serum™, a customised masque, LED light therapy and relaxing massage to ensure your skin is left clear, smooth and glowing. You've never had a peel treatment like this before.  It is specifically designed for advanced skin care users who require that treatment boost. It targets several skin concerns from premature aging, pigmentation, acne, dehydration, congestion to scarring.  After care kit included. 
Pro Power Peel 60 (75mins)£85
DERMALOGICA PRO NANO NEEDLING FACIAL
Nano Needling goes by various names such s micro exfoliation, Nano Infusion or Nano Exfoliation. It is a non invasive procedure that involves the use of pen style modality and nano tips instead of needles. Perfect for skin resurfacing and product infusion. It is suitable for all those who do not want downtime or maybe contra indicated to micro needling. Benefits include: instantly gives a visible hydrated glow, improves skin texture and skin appearance, boosts hydration and diminishes appearance of fine lines and wrinkles.  This can be an add on to other suitable treatments for £35 (speak to your therapist to see if you can boost your normal facial with this add on).
Dermalogica Pro Nano Needling Facial (60mins) £85
DERMALOGICA PRO MICRO NEEDLING
Pro Micro Needling now available combining two powerful clinically proven treatments Pro Power Peel & Micro needling! 
Micro needling activates the skin's repair process and collagen production.  This minimally invasive treatment uses the most advanced needling techniques and is elevated with an option to include a chemical peel to target your chosen concerns like dark spots, wrinkles, open pores, uneven texture and scarring.  Combined with Pro Restore, our recovery and firming concentrate that is designed to prepare the skin's barrier, restore its condition, decrease downtime, and amplify your Microneedling results.  
Dermalogica Pro Micro Needling (60mins) £120 (single small area)
Dermalogica Pro Micro Needling (75mins) £150 (Full Face or equivalent Body area)
Dermalogica Pro Micro Needling with a Chemical Peel (90mins) £175 (Full Face or equivalent Body area)
MEDIK8 MEDI-SPA FACIALS AND PEELS
Medik8 is an award winning Global skincare brand formulated by a team of biochemists and pharmacologists in London, UK. The Medik8 Team has a combined experience of over forty years. Medik8 was launched in 2009. It believes in specially formulated products in small batches by hand to ensure freshness and potency of actives. It offers solutions for skin-ageing, acne, redness, pigmentation and dryness. It is globally recommended by Doctors, Dermatologists, Nurses and Skin Therapists.
Please note: Medik8 facials do require priming products and aftercare too. This can be discussed on initial consultation which needs to be 1-2 weeks prior to your treatment of choice. A deposit of £20 will need to be made at consultation and we will provide a Vitamin A and C to prime your skin. The after- care pack (can be used for more than one session) costs £50-£75 as required- to be discussed. A course of 6 treatments spaced over 4-6 weeks is recommended for lasting results. Each Medik8 SPA facial uses a bespoke electrical therapy of therapist choice included in the facial.
MEDIK8 DEEP HYDRATION FACIAL
A complete nourishing and comforting facial to restore skin vitality for dull, flaky & compromised skin. Gentle exfoliation allows long lasting replenishing Medik8 Hero formulation to deeply deliver deep hydration.
Medik8 Deep Hydration Facial (60mins)
£60
Deep Cleansing Actives are used to target oily, problematic & blemished skin.  Rebalancing products are used throughout this relaxing facial to sooth, calm and generate a clearer complexion.
Medik8 Clarity Facial (60mins)
£60
A gentle soothing treatment to instantly calm inflamed, hot, flushed, red, sensitive and highly sensitised skin using intelligent formulations to aid skin recovery. 
Medik8 Calming Facial (60mins)
£60
MEDIK8 PORE REFINING FACIAL
Targeted Actives and gentle exfoliation are used to gently break down pore blockages and promote the appearance of a smoother complexion with less visible, enlarged pores. 
Medik8 Pore Refining Facial (60mins)
£60
MEDIK8 BRIGHTENING PLATINUM FACIAL
A luxurious illuminating treatment to brighten even the dullest skin.  A targeted results driven age-defying facial to combat uneven pigmentation and skin tone, breathing new radiance and luminosity into the skin. 
Medik8 Brightening Platinum Facial (75mins)
£75
A relaxing age-defying facial with our platinum infused Age Defying Platinum mask that visibly lifts, rejuvenates and firms the skin for a more youthful appearance. 
Medik8 Brightening Platinum Facial (75mins)
£75
MEDIK8 PEELS- SEE AESTHETIC PROCEDURES
LED PHOTOTHERAPY uses a combination of visible (Red & Blue) and invisible light (Infra Red) producing soft cold light at specific wavelengths (Red 635nm, Blue 415nm, Infrared 835nm) which have specific beneficial properties on the cells and hence the skin.  Independent research by NASA space programme has shown that LED light therapy promotes wound healing and human tissue growth.  Depending on the wavelength selected LED Therapy has numerous benefits:
Increased skin radiance
Stimulates cell activity & renewal
Reduces inflammation in skin such as acne
May reduce sebum by normalising the skin and thereby helping control acne breakouts
Improves skin elasticity
More consistent skin complexion and colour
Increase moisture retention
Increases circulation (due to increase formation of new capillaries)
Promotes collagen production for plumper more youthful skin
Increase lymphatic system drainage which detoxifies the skin tissue for healthy skin
Results visible from the first session although, more obvious after four sessions. A course of 10-12 treatments is recommended.
LED PHOTOTHERAPY FACIAL (60MINS)£50
LED PHOTOTHERAPY ADD ON TO OTHER TREATMENTS (10-20MINS)£10
ELECTROMAGNETIC STIMULATION (EMS) FACIAL
EMS stimulates all the facial muscles by gently and effectively exercising to firm, tone and lift and strengthen your face to youthful levels. Three options:
EMS Face lift and rejuvenate: increases muscle volume and plumps skin.  Promotes collagen levels to diminish lines and target double chin.
EMS Circulate:  promotes lymphatic circulation, better blood flow, to give more radiant and brighter skin, reduces puffiness, fine lines and muscle sagging
EMS Stress buster: relaxes facial muscles, relieves stress, improves blood and lymph flow and detox
ELECTROMAGNETIC STIMULATION (EMS) FACIAL (60MINS)£45
EMS ADD ON TO OTHER TREATMENTS (10-20MINS)£15
This Celebrity #fivestarfacial provides the complete facial solution to target an array of universal skin concerns including dehydration, skin-ageing, loose skin, dull complexion and congestion.Through using a combination of advanced technologies, your therapist can create a bespoke facial, suited to your specific skin requirements.Her 3D-HydrO2 facial provides hydration, oxygenation, anti-ageing, brightening, skin-tightening and improves congestion, resulting in a glowing, brighter, more youthful looking skin.                
 By having 7 advance technologies available, we are able to provide a more versatile and prescriptive facial experience than ever before to target your skins concerns.   These technologies smooth, hydrate and planes this game is starting in a glowing, more youthful appearance.
Hydro Peel/ Deep Cleanse:
Uses a combination of three solution AHA based solution is used to cleanse and smooth the skin. While a BHA based solution helps to improve bacteria and inflamed skin.  The third solution leave the skin nourished and hydrated.
Exfoliation/ Oxygenation:
Creates the bore effect which allows oxygen to be drawn into the skin. The active ingredients are Kojic acid and retinol which result in a hydrated and brightening effect.
Oxygenation:
This spray creates Venturi effect which by breaking down the molecules within the project, encouraging maximum absorption allowing intense skin hydration.
A lack of oxygen slows down cell metabolism, ages the cell prematurely, reduces skin firmness and gives a pale ashen complexion.  Applying oxygen to the skin with this method will help to increase cell metabolism and improve these concerns.
Some bacteria are not able to live in oxygen so applying the oxygen to their skin will give this antibacterial effect, because of this, the treatment can also have a positive effect on congestion.
Skin lifting:
This treatment uses electroporation, which increases the absorbency of the cell for product penetration. This, in turn, revitalises and 'wakes up' dull and lifeless skin.
Skin tightening:
Radiofrequency Technology is used to increase collagen reproduction in mature skin. Skin tightening is ideal for incorporating into anti-ageing facial.
Hydration:
Ultrasound technology is used for product infusion. This treatment can be used alongside the 3-D professional solutions time defence skincare range, for anti ageing and hydration around areas where fine lines and wrinkles are likely to appear.
Fire and Ice:
The 'fire' represents the heat elements during treatment. Using this applicator, heat is incorporated into the beginning of the facial protocol to open the pores, increased blood supply and aid product infusion. The 'cryo facial' uses cooling technology, chilling the skin down to 5°C. This is used at the end of each facial to decrease blood supply, giving a tightening effect and sealing in the infused products. This also helps to reduce redness following the treatments.
These technologies can be added to your regular facials as a singular technology by upgrading your facial with your choice of HydroO2Facial single tech at £25 or why not treat your skin to one of the Ultimate #fivestarfacial experiences listed below:
3D HYDRO2 TIME DEFENCE FACIAL (ANTI-AGEING)
Best for:  Treating fine lines and wrinkles, sun damaged skin.
Result expected from this treatment:  Reduction in fine lines and wrinkles, firmer skin, glowing complexion.
2-8 treatments recommended
Pain-free
No downtime
Time Defence Express Facial (30mins)
£50
Time Defence Facial (60mins)
£95
Time Defence Plus Facial (90mins)
£120
3D HYDRO2 BRIGHTENING FACIAL
Best for: Treating sun damaged skin, pigmentation and dull complexion.
Result expected from this treatment: results are glowing complexion and reduction in sun damage and pigmentation.
Brightening Express Facial (30mins)
£50
Brightening Facial (60mins)
£95
Brightening Plus Facial (90mins)
£120
3D HYDRO2 CLEAR SKIN FACIAL (CONGESTION)
Best for:  Treating congested skin, redness and can be suitable for younger skin.
Result expected from this treatment:  Smoother complexion and a reduction in congestion and redness.
2-8 treatments recommended
Pain-free
No downtime
Clear Skin Express Facial (30mins)
£50
Clear Skin Facial (60mins)
£95
CACI FACE SCULPTING- SEE AESTHETIC PROCEDURES

MILLION DOLLAR FACIALS- SEE AESTHETIC PROCEDURES

NIMUE PEELS - SEE AESTHETIC PROCEDURES

MEDIK8 PEELS - SEE AESTHETIC PROCEDURES

MICRONEEDLING - SEE AESTHETIC PROCEDURES
An invigorating lip treatment. This will help improve dehydrated, cracked, dull looking lips. Your lips will feel smooth, hydrated, plumped and rejuvenated. Can be selected as an add on to any facial treatment too (20mins).                              £25